The year was one of adaptation and change. There are still so many unknowns for 2021 however, change and adaptation will remain. Whatever lies ahead, we'll be here when you need us. Here is what you can expect from us in the new year.
To better deal with delivery times we are looking to add more machines to our roster, allowing us to insource more and speed up delivery times;
Increased inventory levels of core items to be able to absorb fluctuations in demand;
Move to online ordering and payment for those who want this;
A wider portfolio of products to cater to a variety of events
We are committed to serve you better! Thank you all for your patronage.
Santa Inflatable for Quadreal at Marche Central in Montreal, QC.
Merry Christmas and a very happy New Year,

On behalf of everybody at TallMan.Promo


Jeroen 'J' Oosterom
CEO TMP International ltd.
Canadian moving and storage company Dymon is a pioneer when it comes to their trade. If you are under the impression that storage facilities are generally depressing, cold and inhospitable, I would challenge you to set foot in any of Dymon's facilities. There facilities are clean and warm, their store outshines most luxury hotel lobbies and their staff is focused on you, the customer.
TallMan.Promo is proud to have designed, produced and installed and installed giant rooftop Christmas inflatables for their main facilities in Ottawa and Toronto.Santa's sled is pulled by the Dymon trucks. The unit is over 25 ft high, uses 3 blowers to run and can be seen from the Queensway from both directions.
Founded in 1995, Dymon is a privately-owned company based out of Ottawa, Ontario. After a successful period in property management, commercial building development and high-end retirement residences, Dymon launched the Dymon Storage brand in 2006. Since the opening of our first storage facility in the summer of 2006, Dymon has focused relentlessly on its mission of pushing the envelope of the storage industry. Dymon Storage represents an entirely new paradigm, exceeding customers' expectations and changing the way they think about storage.
In addition to the Santa, various 20ft inflatable grinches popped up on their facilities as well. Taken from Dr. Seuss' beloved holiday classic. The Grinch tells the story of a cynical grump who goes on a mission to steal Christmas, only to have his heart changed by a young girl's generous holiday spirit.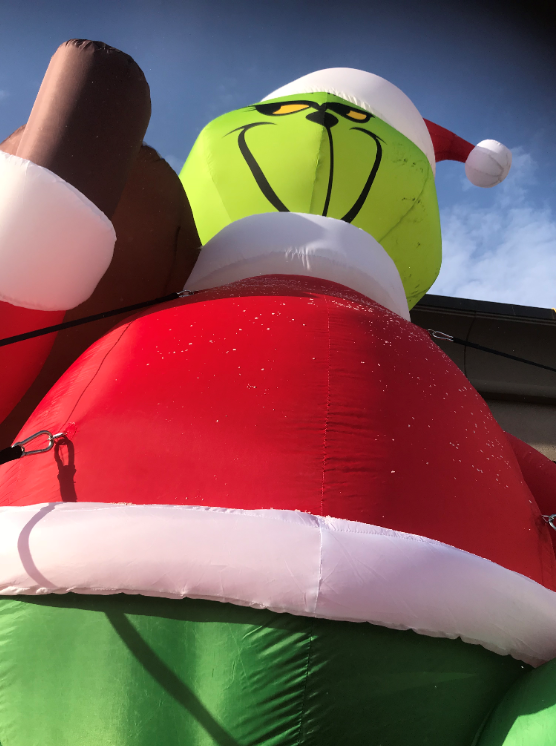 Thanks to Dymon Storage for being a wonderful client and having the vision for this gigantic project. Inspired to do your own custom inflatable campaign? Give your account manager at TallMan.Promo a call today!